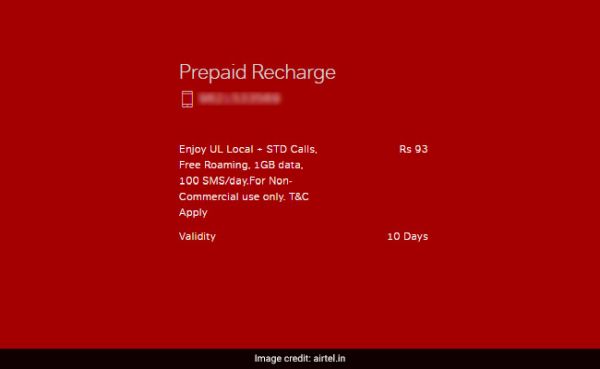 Within minutes of the launch of Reliance Jio's 98 Plan, the leading telecom company Bharti Airtel started offering ₹93 recharge plan. Targeting the entry-level users, the telecom companies are offering freebies at just ₹93.
As per the newly launched Airtel Prepaid ₹93 Recharge, the users can enjoy unlimited local and STD calls, 1GB data, and 100 SMS per day. This pack is valid for a limited period of 10 days. Interestingly, all the voice calls are FREE including roaming calls.
The main advantage of this ₹93 tariff pack is it's no daily data limit. The Airtel user can utilize the entire data (1GB) within a day, unlike Reliance Jio's ₹98 plan.
Make sure that this plan is valid only for non-commercial use. The Bharti Airtel users can recharge this plan through its official website and MyAirtel App. Of course, it is valid on all handsets.
Reliance Jio ₹98 Plan:
If you happen to observe the Reliance Jio ₹98 Plan, then you'll find that it offers 2.1 GB of 4G data. However, there is a daily data cap of 0.15 GB. Apart from the 2.1 GB 4G data benefit, the Jio subscriber will get unlimited voice calls (local, STD and roaming) and 140 SMS. Here, the validity period is 14 days.
Leaving aside the daily data cap, Jio ₹98 is truly a cheaper plan and offers the best value for money. That's the reason; the incumbent telecom operators are feeling the heat and busy in launching some me-too plans.
Idea Cellular ₹93 Recharge Plan:
In a counter-reply, Idea Cellular too joined the race by revamping its tariff. The all-new ₹93 Idea Cellular recharge offers unlimited local and STD calls and 1GB of 4G/3G/2G data. There's no mention of SMS and Roaming benefits.
As the plan is meant for non-commercial use, there is a restriction of outgoing voice calls - 250 minutes per day and 1000 minutes per week. After the usage, the subscriber will be charged 1p/sec within its validity period.
Also Read: Stage Set for Prepaid Data War with Airtel ₹199 Tariff Plan