BSNL Unveils Bharat Fiber Plans to Match JioFiber (Starting at ₹449)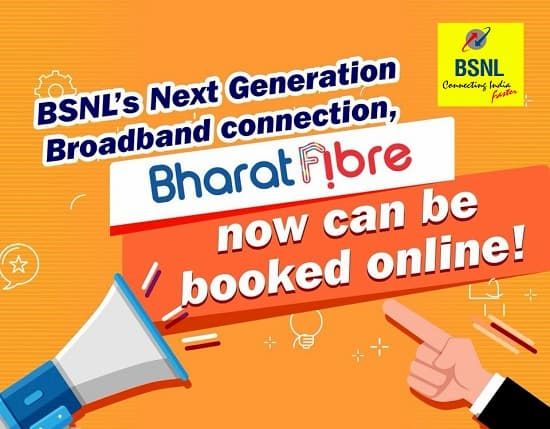 At last, the state-run telecom service provides BSNL has come up new Bharat Fiber Plans to match Jio Fiber. Though the company announced that the new unlimited Bharat Fiber FTTH plans are on a promotional basis, they are here to stay across India.
In a significant move, the BSNL has unveiled the FTTH broadband plans to stay in the competition especially to counter Reliance JioFiber FTTH. The new plans are named "Fiber Basic", "Fiber Value", "Fiber Premium", and "Fiber Ultra".
Starting at ₹449, the BSNL Bharat Fiber plans are very aggressive and much-awaited. When the traditional BSNL broadband subscriber base is getting eroded, this move will definitely help the state-run FTTH provider to be in the business.
Officially, these Bharat Fiber Plans will be activated from October 1st and valid for a period of 90 days. All the BSNL subscribers across PAN-India (except Andaman & Nicobar Telecom circle) can avail these plans. Though some news channels reported that this competitive pricing is applicable to certain towns and cities, it's not true.
The Indian Government is committed to increasing digital connectivity in the next 1000 days. So, the new BSNL Bharat Fiber plans will be uniform across India. In fact, the uniform pricing strategy is also being followed by Reliance Jio where its competitors couldn't make it.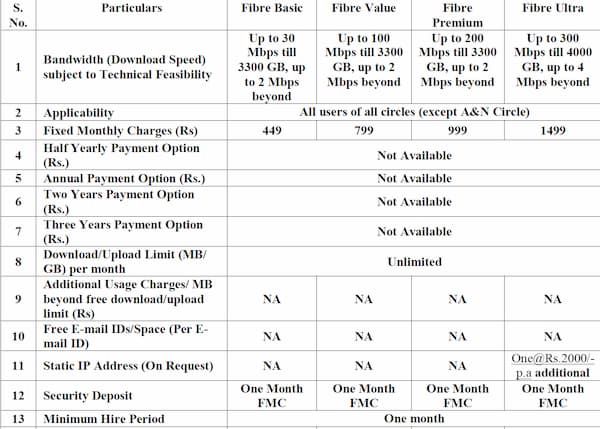 Bharat Fiber (FTTH) Broadband - Fiber Basic Plan ₹449:
This is a starting plan under Bharat Fiber FTTH broadband. The monthly rental is ₹449 plus GST. Here, you get 30 Mbps speed till 3300 GB, thereafter the speed gets reduced to 2 Mbps. It also includes 24 hours unlimited calling on any network within India.
The Fiber Basic Plan is very much similar to JioFiber Bronze plan and Airtel Unlimited that costs ₹399 and ₹449 per month respectively. However, both the Jio and Airtel FTTH offerings suffer from a post FUP speed of 1 Mbps.
Bharat Fiber (FTTH) Broadband - Fiber Value Plan ₹799:
Here, the speed rocks up to 100Mbps subject to technical feasibility. The monthly rental of BSNL Fiber Value Plan is ₹799 and GST extra. The FUP limit is 3300 GB. Post the 3.3 TB data, the speed gets reduced to 2 Mbps. The unlimited 24 hours on any network is complimentary.
When one compares BSNL Fiber Value Plan ₹799 to Jio Silver and Airtel Premium plans, Jio's offering is ₹100 cheaper. And as usual, the post FUP speed is lower (1Mbps) both in Jio and Airtel plans.
Bharat Fiber (FTTH) Broadband - Fiber Premium Plan ₹999:
Here, the broadband speed shoots up to 200Mbps with a FUP limit of 3300GB thereafter 2 Mbps. The monthly rental is ₹999 plus tax. All other features and benefits remain the same.
The advantage of Fiber Premium Plan is free access to Disney+ Hotstar Premium pack subscription without any extra fee.
When one compares it with Jio and Airtel plan, the BSNL FTTH plan lacks Amazon Prime Video subscription but instead offers Disney+ Hotstar Premium pack membership.
Bharat Fiber (FTTH) Broadband - Fiber Premium Plan ₹1499:
This is the most expansive plan from Bharat Fiber FTTH broadband. At ₹1499 plus GST extra, you get 4000 GB of data at 300 Mbps speed. Post the usage of 4000 GB data, the speed is throttled to 4Mbps.
The Disney+ Hotstar Premium pack subscription is a bonus. You have the flexibility to get a static IP by paying ₹2000 annually. If we compare the BSNL ₹1499 Fiber Premium Plan with Airtel and Jio FTTH, the BSNL stands out.
The minimum hire period for all the BSNL FTTH plans is 1 month. Similarly, an installation charge of ₹500 is being collected on all the plans. This is much cheaper when it is compared to Jio. Reliance JioFiber FTTH collects ₹1000 as the installation charge.
What's Your Opinion?
Surely, the announcement of new plans by BSNL Bharat Fiber broadband is need of the hour for the PSU. The customers will now have a wider choice.
Though Bharat Fiber plans seem to be mee-too plans to counter JioFiber, they still have an upper-hand due to its wide coverage even in remote areas.
The interested users can visit the nearest CSC or BSNL franchisee or retailers. Or one can even call BSNL toll free number 1800 345 1500 or My BSNL mobile app or portal for booking a new connection.
Do you agree with my opinion? Share your thoughts.
Also Read: JioFiber Launches New Tariff Plans (With 30-Day Free Trial)
posted in BSNL