Hathway Fiber Offers 150 Mbps Broadband at ₹800 (With 6-Month Pack)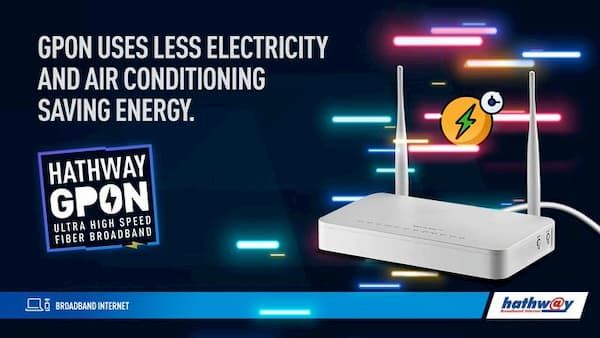 Mumbai-based Hathway Broadband Internet is now offering 150 Mbps broadband at ₹800 per month. This is really competitive pricing from the first cable ISP in India.
Though Reliance Industries has got 72% stake in Hathway, the cable TV service operator is still conducting the business independently. Leaving it aside, the Hathway broadband services are used by 2 million subscribers in major Indian cities including Hyderabad, Mumbai, Delhi, Chennai, Bangalore, Ahmedabad etc.
Hathway 150 Mbps Plan:
The new offering of 150 Mbps is launched exclusively in Kolkata city. Currently, the Freedom2_150 is exclusive to Kolkata telecom circle. Under this plan, the subscribers get 150 Mbps home broadband speed with a monthly FUP of 1200GB.
Post the FUP 1200GB, the speed gets throttled to 5Mbps. Shockingly, this is not a direct monthly plan. You need to take the subscription for a minimum of 6 months or 12 months period. If you are paying for 6 months, then it costs ₹4800. Or the 12-months subscription costs ₹9600.
Either way, you end up paying ₹800 per month effectively.
Interestingly, the same 150 Mbps broadband plan costs ₹5394 in Bengaluru (Value Pack) and ₹5400 in Chennai telecom circles (GPON Dual Band 150) respectively. One should compulsorily take a 6-month or 12-month plan to avail this 150Mbps speed.
In Bengaluru and Chennai Telecom circles, the 150Mbps comes up with 1000GB FUP restriction. Whereas the Kolkata subscriber gets another 200GB relaxation. In all these cities, you get a dual-band WIFI router and installation facility for free.
Hathway 150Mbps Broadband Plan Comparison in 3 Cities:
| Hathway 150 Mbps | Kolkata | Bengaluru | Chennai | Chennai |
| --- | --- | --- | --- | --- |
| Plan Name | Freedom2_150 | Value Pack | GPON Dual Band 150 | GPON Community 150 |
| Monthly FUP Limit | 1200 GB | 1000 GB | 1000 GB | 1000 GB |
| Post FUP Speed | 5 Mbps | 3 Mbps | 5 Mbps | 5 Mbps |
| Cost for 6 Months | Rs 4800 | Rs 5394 | Rs 5400 | Rs 4794 |
| Cost for 12 Months | Rs 9600 | Rs 10788 | Rs 10800 | Rs 9588 |
Though Hathway offers cheaper plans in the broadband segment, it is not uniform. In some cities like Bhilai, Chandigarh, and Visakhapatnam, the max speed is just 2Mbps. On the other end, the Chennai area gets the highest speed of 300 Mbps at ₹1400 effectively.
If this is the situation of a broadband company, what will be its reception? Undoubtedly, the cellular operators like BSNL 3G and Jio 4G are way ahead of Hathway. If the cable operator wants to really stay in the business, it has to upgrade the infrastructure.
Also Read: JioFiber Launches New Tariff Plans (With 30-Day Free Trial)
posted in Hathway